By Ellen Meltzer, CDL Information Services Manager
Based on end user comments and usability testing, OCLC has made the following enhancements to the Next Generation Melvyl Pilot supported by WorldCat Local (WCL) this month. (As a reminder, enhancements are brought into WCL on a monthly basis.)
A "Return to Search Results" link has been added from the detailed record page, making it easier for users to navigate back to search results.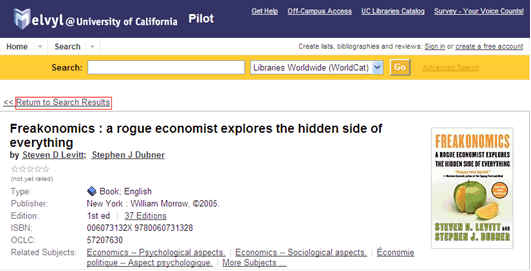 Stickiness issues have been improved. The user's search terms are now removed from the search box on all but search results, no results, and advanced search pages so that users no longer find search terms in the box from either the last person who used a public terminal, or from a search conducted some time in the past. Users can now use the Return to Search Results link (detailed above) to return to the previous search results.
Users will no longer see the WCL Internet Resource icon (blue world with an arrow in it) on the brief list of results for items that are truly not internet resources, such as publisher descriptions or sample text, or articles. (Some articles may in fact be available online via UC-eLinks.) Users will continue to see the icon for items such as NetLibrary or eScholarship Repository resources.
A new green whirling icon message will be displayed in the upper right hand corner of the framed page indicating that the page is loading.

Preparing training materials for the Next Generation Melvyl Pilot for the onslaught of students this fall? There's now a link from the UC-OCLC Pilot Implementation Web page to instructional materials for the pilot. Materials, including tutorials, were created at the campuses and OCLC: http://libraries.universityofcalifornia.edu/about/uc_oclc.html
Facebook widgets, allowing you to search Next Gen Melvyl from your Facebook account (and who wouldn't want to be doing that!), are coming soon. Google Gadgets are on their way, too.
Finally, as fall quarters and semesters begin, please point out the survey link in the Next Generation Melvyl Pilot web banner to faculty and students in library tours, instructional sessions, newsletters and messages, and via other appropriate mechanisms. The survey is one instrument we can use to gauge our users' satisfaction of this new tool and is an important part of our assessment plan.